Chef's Corner
Chef's Corner
Check out these tried and true recipe favorites!
Sriracha Curry Chicken Tacos
Serves 4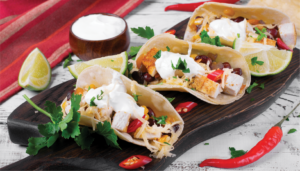 Ingredients:
1 dozen small corn or flour tortillas
1 bag cabbage cole slaw shreds
1 bunch cilantro, minced
1 small container Greek yogurt or sour cream
3 Persian cucumbers, quartered & diced
1 lemon
Olive oil
Salt / pepper
Cotija Cheese, crumbled
1-2 avocados, sliced & plated
2 bunches radishes, sliced
Directions:
Favorite Hot Sauce (Sriracha would be good) Cook chicken, either grill, pan brown or boil no need to season. When chicken is cooked, let rest covered for 7 min. While chicken is resting heat tortillas and place in clean kitchen towel. Toss cabbage and cilantro together drizzle with desired amount of lemon juice, olive oil, salt and pepper to make a salad, Chop chicken thighs into slices then dice into 1/2 inch chunks, Serve cucumber, radishes, cabbage salad, avocado, yogurt, cheese, chicken, and tortillas together and let people assemble their own tacos.
Chicken Schnitzel
Serves 4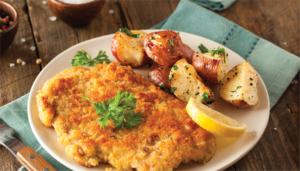 Ingredients:
4 4-ounce skinless, boneless chicken breasts, pounded to 1/8-inch thickness
Kosher salt and freshly ground black pepper
1 cup all-purpose flour (for dredging)
2 large eggs
1 tablespoon Dijon mustard
2 cups (or more) whole wheat (or regular) panko (Japanese breadcrumbs)
2 tablespoons canola oil, divided
2 tablespoons unsalted butter, divided
Chopped flat-leaf parsley
Lemon wedges
Directions:
Season chicken breasts with salt and pepper. Place flour on a plate. Beat eggs and Dijon mustard to blend in a shallow baking dish. Place 1 cup panko in another shallow baking dish, adding remaining 1 cup panko, or more, to dish as needed throughout process, Working with 1 chicken breast at a time, dredge in flour, shaking off excess, then dip into egg mixture, turning to coat evenly; carefully coat with panko, pressing panko gently to adhere to chicken, Transfer to a plate baking sheet. Heat 1 Tbsp. oil and 1 Tbsp. butter in a large skillet over medium-high heat (pan should be large enough to hold 2 breasts). Add 2 chicken breasts to skillet and cook until golden brown on both sides, 8-10 minutes, Transfer chicken breasts to another paper towel-lined plate and season with salt, Add remaining 1 Tbsp. oil and 1 Tbsp. butter to skillet and repeat with remaining chicken breasts, Transfer chicken breasts to plates and garnish each with parsley and a lemon wedge.